Paul David Lunde died on January 24, 2023, after hemorrhagic stroke at the age of 86 at Israel Family Hospice in Ames, Iowa. A memorial service was held on Saturday, April 15, from 1 to 3 PM at Bethesda Lutheran Church in Ames.

A video of this service, starting with about 15 minutes of home video prior to the service itself starting, is available on request. Please contact Thomas for the link to it.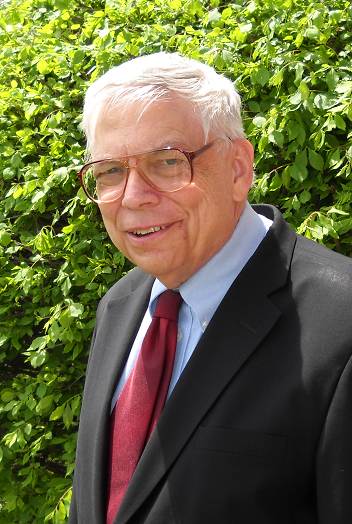 Paul was born in Bismarck, North Dakota on March 15, 1936, the older of two children of Frits Nikolai Smeby Lunde and Florence Marjorie (Severson) Lunde.
When Paul was in first grade, the family returned to central Iowa, eventually settling in Ames, his lifelong hometown. After graduating from Ames High School, Paul went to Northwestern University, got married, then received his B.S. and M.S. in journalism in 1958. The young couple moved to Cambridge, MA, where he attended Harvard Law School, graduating in 1961.
Captain Lunde was commissioned as a member of the Judge Advocate General's Corps in the US Army after graduation. He served for three years on active duty near Washington, DC, and then went into private practice with a firm specializing in broadcast law. After the birth of his first child in 1965, Paul and his family moved back to Ames with plans to start a radio station.
You'll find that station today at 104.1 on your FM dial as KOEZ. It was Central Iowa's first commercial FM station as KLFM, going on the air on June 2, 1967. You can also hear KJJY at 92.5 today, which was the family business' second project. It went on the air in 1978 as KANY, the Ankeny radio station.
Paul was an author, starting with Great Restraint in 1985, Meltdown in 2007 & 2013 and Roosevelt's War in 2012. He was also a teacher, earning his teaching certificate and a B.A. in History in 1989, and, later, an M.S. in Special Education from Iowa State University. He served in many schools over the next 28 years, including junior and senior high schools in Des Moines, Ankeny and Ames. During this time, he was also a Realtor, working with clients across the Des Moines metro area.
Paul relished the idea of being in public life, running for Iowa State Representative in 1978, 1982 and 1990; for the US House of Representatives in 1988 and 1992; and for the US Senate in 2014 and 2018. He also worked in the 1970s and 1980s to secure the downtown Ames Central Junior High School (originally, the Ames High School) building for use today as the Ames City Hall.
In 1957, Paul was married to Barbara Kegerreis; in 1982, to Janice Breen Mitchell; and, in 1990, to Suzanne Clark, a fellow member of the Ames High School Class of 1954, from whom he was widowed in 2017. He is survived by his brother, Mark (Linda) Lunde of Urbandale, IA, his children, Karen (Ingo) and Thomas (Erin) and his four grandchildren, all living in Minneapolis, MN.
A lifelong member of Bethesda Lutheran Church in Ames, Iowa, Paul's memorial service and fellowship was held there on Saturday, April 15, from 1:00 to 3:00 PM. Thank you for joining Paul's family in person or by video for the chance to share stories of someone who held the school motto closely: Ames Hi Aims High!